I like teaching more than I like writing curriculum.  I do feel lucky that I'm not mandated what to teach, but the curriculum part is probably one of the more challenging aspects of the job for me.  Also tried a 3-Act problem in my 6th Grade math class that went so-so.  In the world of robotics, students are pretty much on autopilot.
STRUGGLE WITH CURRICULUM PLANS
Chatted with the other 6th grade math teacher this week about curriculum.  Being in private school, you do have your state standards to look at but it's very open-ended with how and what you teach.  My philosophy's has really shifted to wanting to go more in-depth with fewer topics than try to sprint our way through a ton of topics.  Last year that left me at a place where I hadn't got to about three whole units that were at the end of my curriculum.  It'd definitely a balance and I felt I was a little bit too much on the slower side last year.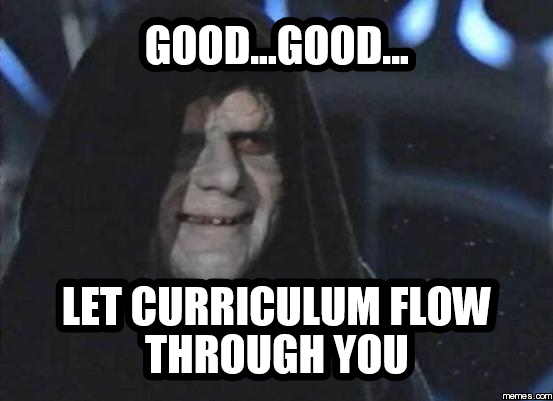 This year, I really tried to use the Common Core State Standards (CCSS) to help guide me through what to teach.  I was realizing that last year, most of the stuff I taught in 6th grade was a lot of 5th grade CCSS.  I thought of trying to remedy that a bit by introducing a few concepts to the 6th graders that I previously hadn't introduced until 7th grade.  It was a pretty bold move to try and add MORE considering I didn't even get through what I wanted to teach last year.  Upon talking to the other 6th grade math teacher earlier in the year, we agreed we would try to bring those concepts in at the end if we had time.
Over the summer, I used a 6th grade CCSS math book to help me decide on the order of the units.  I wish I hadn't.  I went into solving one step equations with the 6th graders before we had even done fractional operations.  Had I stuck to the original plan, I would have put solving one-step equations at the end of the year to ensure I got through the other more fundamental skills.
Another challenge I'm working through is deciding on the differences between 6th grade math and Pre-Algebra; where they overlap and how much more in-depth Pre-Algebra should be.  Something to consider is that I have a good handful of 6th graders who test out of 6th grade math and enter into Pre-Algebra.  I will usually end up working through some of the 6th grade stuff in Pre-Algebra (multiplying and dividing decimals and fractions) and I try to work a little bit quicker, but I can't just skip over it as those 6th graders in Pre-Algebra really haven't had much opportunity to learn it.
All that to say, I don't feel that curriculum writing is my strong suit.  Once I have high-quality problems, I feel I can do a good job of leading quality discussions in my classes, but writing all the curriculum isn't totally my jam.  I reflected quite a bit on it at the end of last school year during my year in review.
3-ACT IN 6TH GRADE MATH
I like 3-Act problems, but sometimes I feel I drag them out.  I did one yesterday on a lesson for lowest common multiple (find out how many packages of hot dogs and buns you'd have to buy so that none go to waste).  It wasn't the most challenging one, and a couple students just solved it in their head before we were really even done with Act 1.  Other students were still a bit lost by the time we were done with it.  Students were even a bit unsure of how to guess 'too many' packages.  It seemed like an awkward one to guess since it was more about the combinations of buns and hot dogs than just a flat out number that's too high or too low.  It's not like 'guess how many pennies you see here.'
I chose not to do the extensions that were provided of 7 hot dogs with a package of 16 buns because the LCM would have just ended up being the product of the two numbers and I didn't want students coming away thinking OH LCM, JUST MULTIPLY THEM.
Worked on some GCF and LCM word problems on Khan Academy which they found appropriately challenging.
FINISHING 'SCRATCH' IN ROBOTICS…ONTO THE ROBOTS SOON!
My robotics students are pretty much on autopilot.  They're using the CS First curriculum and I just give them projects to do.  They're really into it and whenever they have a question, I give them tips on what to Google to find the answer.  They have one more project that's pretty open ended and then we will begin with the robots.  Also got a room change that's more ideal for 12 kids who each have their own robot kit and computer (previous room would have gotten pretty cramped).